The South West Rocks Fishing Adventures Vessel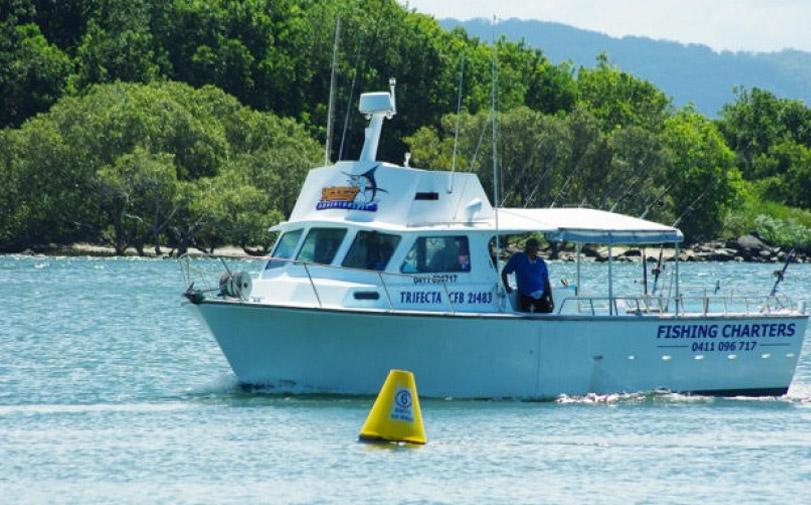 South West Rocks Fishing Adventures takes your comfort and safety seriously. That's why you can't go wrong with our fully equipped vessel, the MV Trifecta, with our skipper at the helm. She's a rugged and purpose-built 38ft Randell, with a nippy 400hp Iveco diesel motor surveyed for up to 10 guests and 4 crew.
If you spot other local adventure vessels, you might notice their lightweight aluminium construction. Trifecta's fibreglass hull will keep us slicing through the surf for a smoother, more stable ride. We're also pretty happy with the amount of shelter the Trifecta provides, so our guests aren't stuck squinting into the sun all day. They might seem like a small feature, but our side rails make a world of difference to keep an under limit release close to the water for its best chance of survival. And of course, they give you something to hold onto when a massive wahoo is screamin' on the line!
The Trifecta is equipped with Simrad Electronics for navigation and fishfinding, so the skipper can always give a shout if there's something worth catching swimming down below. You don't have to worry about your bait or other fishing gear, either. We'll catch some live bait on the way, and we've got sportfishing rods, reels, braided line and everything you'll need to land your catch onboard. There are spare hats and sunscreen, and our skipper is on standby to take photos. With morning tea and private toilet facilities, it's a smart package out on the water.
Join our skipper Aaron on the MV Trifecta for the fishing adventure of a lifetime.
Book Now,
Don't Miss out!