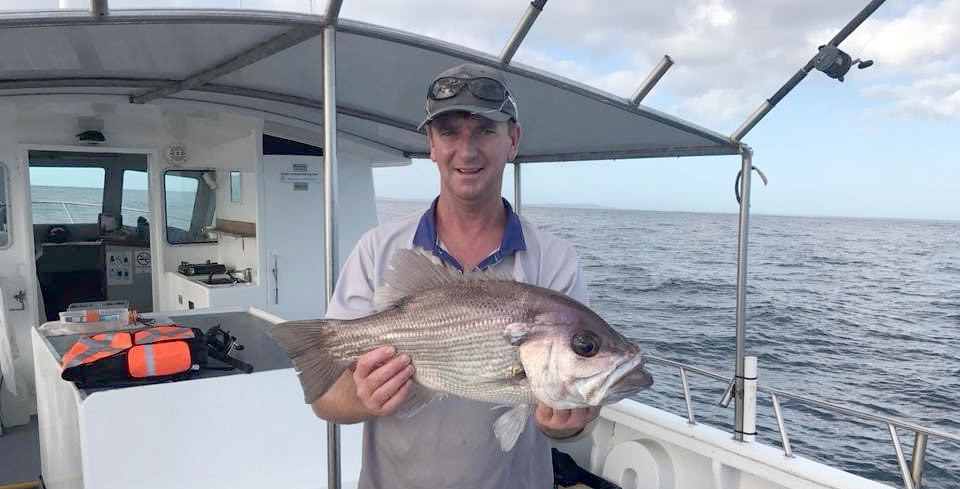 Our skipper Aaron is a licensed Coxswain Marine Engine Driver (MED) Grade 3. We're lucky to have had Aaron on deck with South West Rocks Fishing Adventures for the past ten years. His knowledge and experience are second to none out on the water, and he knows all the best fishing spots. Friendly and helpful, Aaron is always around to bait a hook and offer advice.
Fishing is in Aaron's blood. He comes from a fishing family and has been fishing the coast of New South Wales for food, business and recreation since he was a boy. With more than twenty years of experience working out on the ocean, he learned to hunt down a catch like marlin and kingfish from the deep water without modern electronic charting and fishfinding equipment and can't get enough of the thrill of the chase.
Aaron loves his job, and we love his sense of humour. He enjoys striking up a good chat with guests and locals alike. He's always keen to hear what's biting and combines local observations with his long-cultivated experience of the changing fishing seasons to take his guests into the action. If you're lucky enough to land some of his favourites like the bar cod or pearl perch, he might even share a family-friendly recipe or two!
Don't just take it from us. Our guests have plenty of praise for our skipper, Aaron.
Book Now, Don't Miss out!